What is the difference between Gas and Induction Hobs?
Both have their own pros and cons, and it ultimately depends on user's own preference on which type of hob they prefer best after understanding the difference.
Click here for a bite-sized infographic or continue reading below.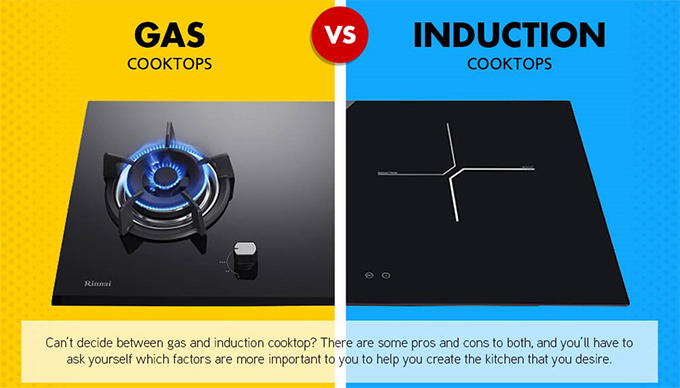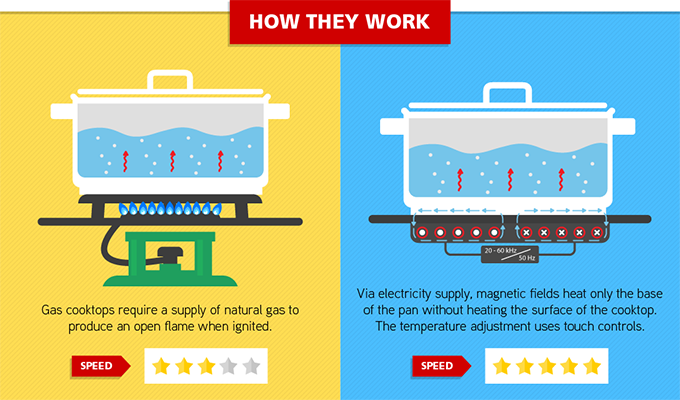 How They Work

As we all know, gas hobs require a supply of natural gas to produce an open flame to heat up the pan and temperature is adjusted using the knobs. Whereas for induction hobs, electric supply is required to heat up the surface of the cooktop to heat up the pan and temperature is adjusted through touch controls.
In terms of heat up speed, the induction hob is definitely faster and is recommended for those who wants to save cooking time.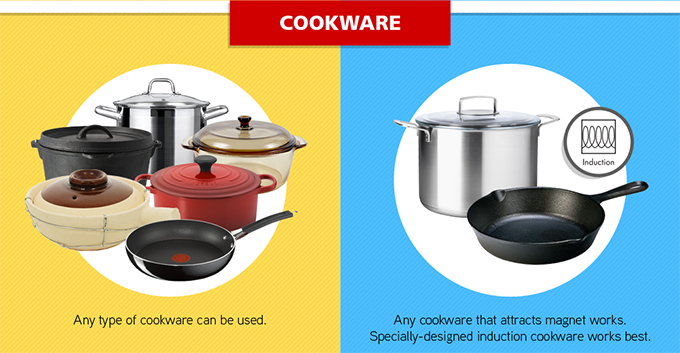 Cookware
For gas hob, any type of cookware can be used.
However, not all cookware can be used on the induction hob. Any cookware that attracts magnet will work fine on an induction hob, but specifically-designed induction cookware works best. When purchasing induction cookware, look out for the symbol in the image above.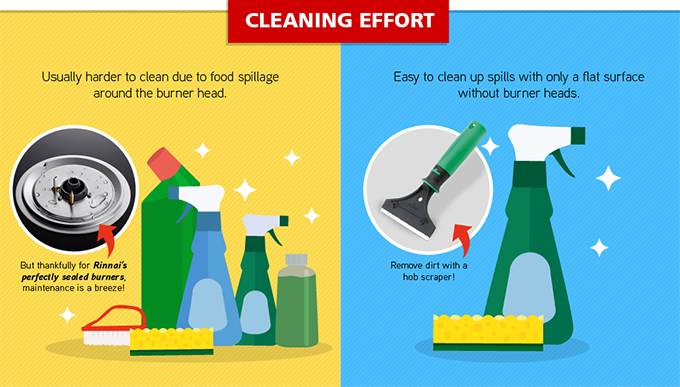 Cleaning Efforts
In terms of cleaning effort, gas hobs are more troublesome compared to induction hobs.
Gas hobs are usually harder to clean due to food spillage around the burner head which can be difficult to scrub. But thankfully, Rinnai's gas hobs burners are perfectly sealed, making cleaning a breeze.
With only a flat surface and without burner heads, spills on an induction hob can be easily wiped away. If there are stubborn stains, they can be removed with a hob scraper.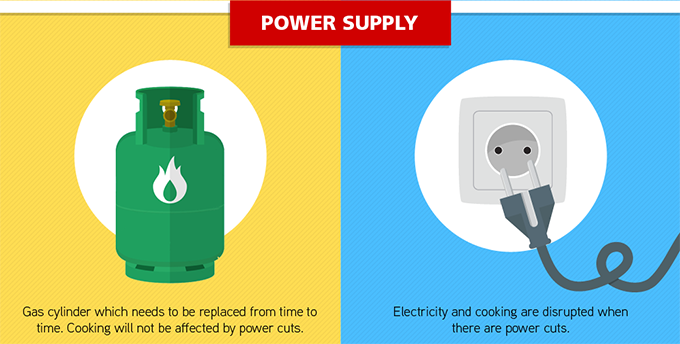 Power Supply
Gas hob relies on gas cylinders whereas induction hob relies on electricity. When there are power cuts, induction cooking will be disrupted but gas cooking will not be affected.

Consumption
In terms of heat efficiency, induction hob wins with a high heat efficiency of 80-90%. Gas hob generally only has a heat efficiency of 40%.
But also because of this, induction hob consumes a lot of electricity. Thus, it is more cost-consuming compared to gas hob which relies on gas cylinders that will only need to be replaced from time to time depending on your usage.
Thanks to Rinnai's technology, most of our gas hobs are armed with 51-52% heat efficiency, allowing you to cook faster and use lesser gas.
Gas hob is also more energy saving compared to induction hob as gas is more environmental-friendly compared to electricity.
Gas is directly-consumed whereas to consume electricity, more fuel is required to produce it. Therefore, gas is more environmental-friendly as lesser energy is converted to produce gas compared to electricity thus emitting less carbon foot-print.